Summer Conference 2022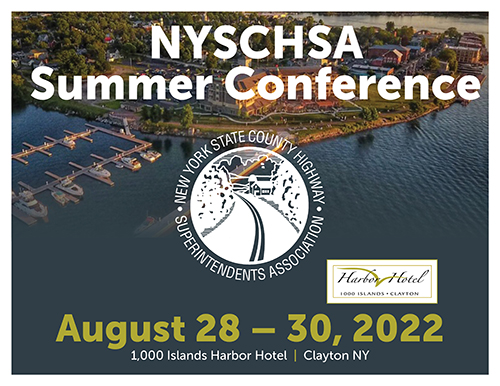 CONFERENCE QUICK LINKS
Provided for easy reference and for attendee and supporter registration. 
 
Conference Schedule  |   Conference Fees/Costs   |   Hotel Information

Golf Tournament Information   |   Sponsorship/Marketing Opportunities
REGISTRATION MENU
We encourage our members and supporters to use the new online forms below for ease in registering and making payments!
Attendee Online Form   |   Download Attendee Form
Sponsorship Online Form   |   Download Sponsorship Form 
OUR HEADQUARTERS HOTEL IS NOW SOLD OUT!  
NYSCHSA has successfully SOLD OUT the 1000 Islands Harbor Hotel! There are several local B&Bs, inns, hotels, which will gladly accept reservations, should you still need an accommodation. All are located near the conference venue. Currently, the Riveredge Resort in Alexandria Bay is also available.   
Other Nearby Overflow Accommodations    Click here for overflow handout.
Wood Boat Inn – 315-686-5004
The Islander Marina + Lodge- 315-686-5574
Captain Simon's B+B- 949-92-3102
The Clipper Inn- 315-686-3842
The Chateau Country Inn 315-686-4217
The McKinley House B+B- 315-686-3518
 
The New York State County Highway Superintendents Association (NYSCHSA) and the Continuing Education Consortium (CEC) proudly present their annual Summer Conference, August 27-30, 2022. Highway Superintendents, Public Works Commissioners and industry professionals will strengthen their knowledge and share their expertise on improving the local highway and bridge infrastructure across the state. The summer program offers education sessions and plenty of time to reunite with colleagues on important issues affecting the state's infrastructure.

LEARNING OBJECTIVES
The 2022 Summer Conference provides education and training to County Highway and Public Works professionals, professional engineers, land surveyors and all industry professionals whose responsibilities include the building and maintenance of New York state's roads and bridges. The program offers accredited courses with Professional Development Hours (PDHs). Conference attendees not seeking PDHs with the accredited technical training are encouraged to audit CEC courses of their choice.
WHO SHOULD ATTEND?
• Highway Superintendents, Commissioners of Public Works & their Staff
• Transportation Directors
• Engineers
• Land Surveyors
• Anyone interested in construction and maintenance of local roads and bridges!