Summer Conference 2022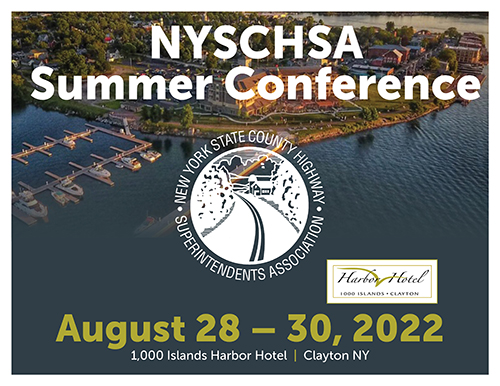 CALL FOR CEC PRESENTATIONS!
We are now accepting proposals for presentations that will provide attendees with PDHs.
CLICK HERE FOR OUR CEC SUBMISSION FORM       
The New York State County Highway Superintendents Association (NYSCHSA) and the Continuing Education Consortium (CEC) proudly present their annual Summer Conference, August 27-30, 2022. Highway Superintendents, Public Works Commissioners and industry professionals will strengthen their knowledge and share their expertise on improving the local highway and bridge infrastructure across the state. The summer program offers education sessions and plenty of time to reunite with colleagues on important issues affecting the state's infrastructure.
LATEST CONFERENCE PLANNING NEWS
The Conference Planning Committee is currently reviewing plans and will have BOTH the Conference Registration Packet and the Conference Sponsorship and Marketing Prospectus available soon...please stay tuned!
CALL FOR CEC PRESENTATIONS!
We are now accepting proposals for presentations that will provide attendees with PDHs.
CLICK HERE FOR OUR CEC SUBMISSION FORM       
LEARNING OBJECTIVES
The 2022 Summer Conference provides education and training to County Highway and Public Works professionals, professional engineers, land surveyors and all industry professionals whose responsibilities include the building and maintenance of New York state's roads and bridges. The program offers accredited courses with Professional Development Hours (PDHs). Conference attendees not seeking PDHs with the accredited technical training are encouraged to audit CEC courses of their choice.
WHO SHOULD ATTEND?
• Highway Superintendents, Commissioners of Public Works & their Staff
• Transportation Directors
• Engineers
• Land Surveyors
• Anyone interested in construction and maintenance of local roads and bridges!