Our 2023 Grassroots Advocacy Campaign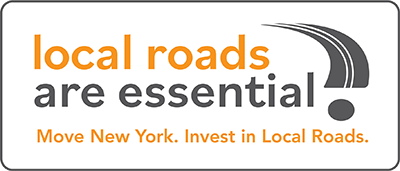 PAVING THE WAY IN 2023
for Increased State Funding for Local Roads, Bridges and Culverts

Thank You to All Who Helped Made Advocacy Day 2023 a Success!
We Have to Keep Going!
Action Item: Write a Thank You to Your State Lawmakers!
 
REMEMBERING OUR EFFORTS (1:00)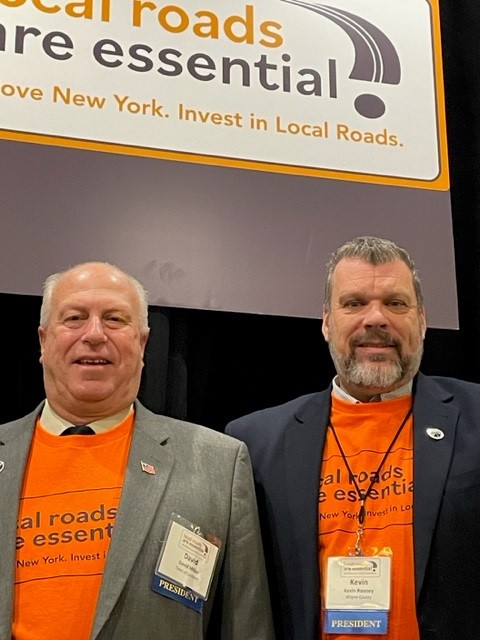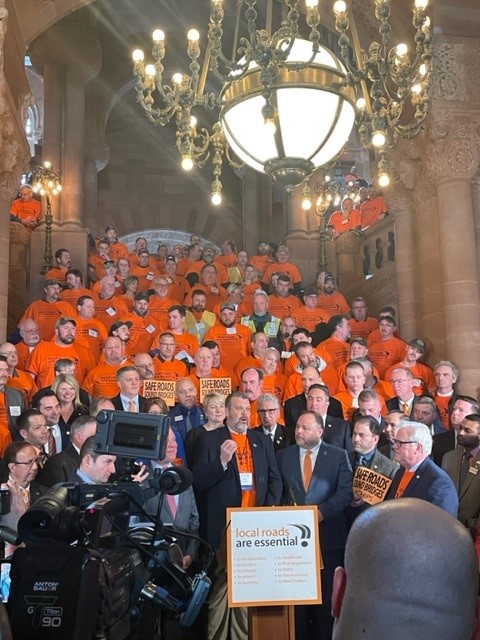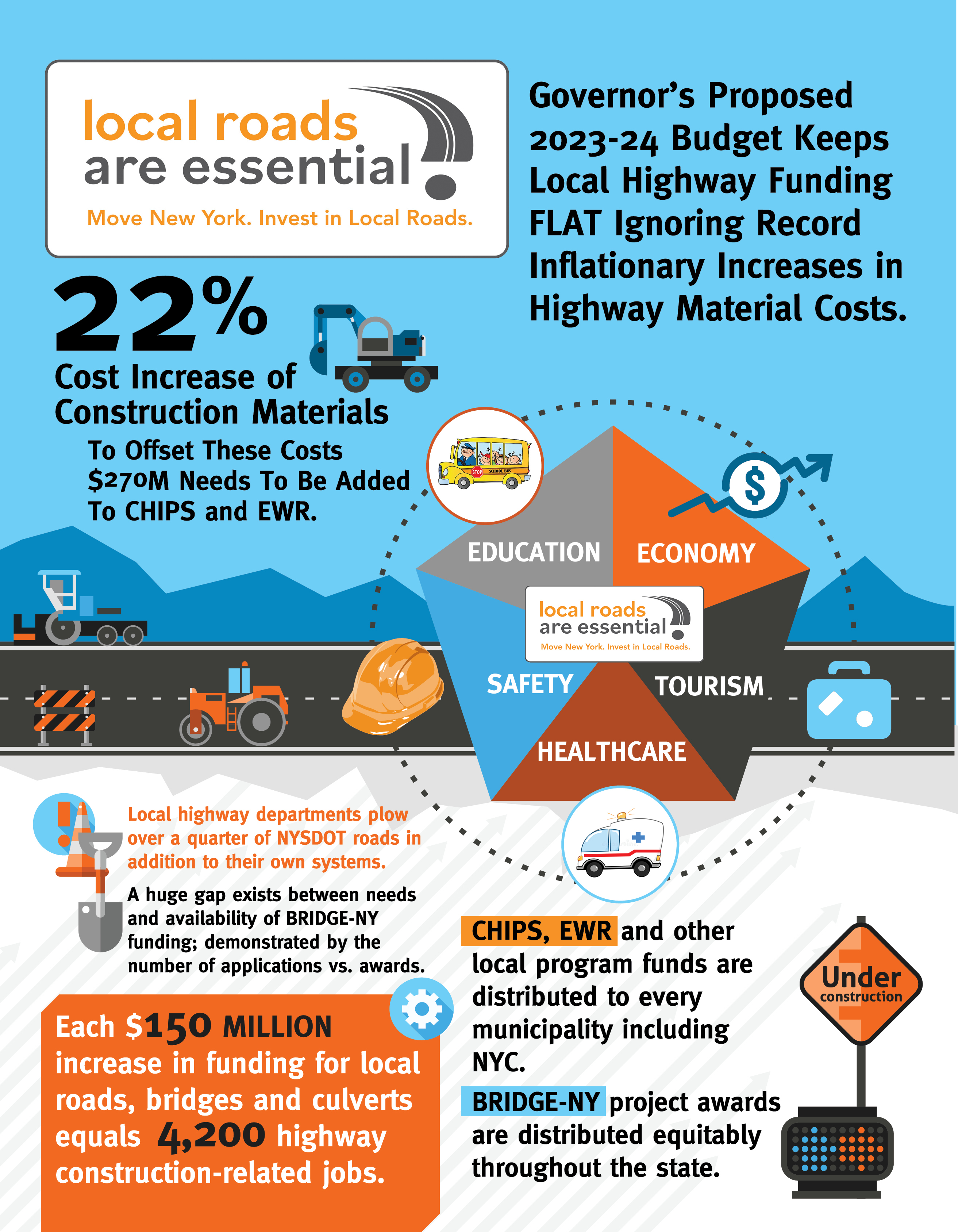 OUR TESTIMONY BEFORE THE
2023 JOINT BUDGET HEARING
OF THE NEW YORK STATE LEGISLATURE
February 6, 2023
The Presidents of NYSCHSA and NYSAOTSOH testified before the Legislative Joint Budget Hearing on Transportation. Below please find the clip of their testimony and questions/comments by Legislators. 
Bringing Our Message to the Legislature

Note: On some of the slips below, you will hear the presenters voice before seeing them on camera.  

NYSAOTSOH President David Miller led off our testimony before the Joint Budget Hearing (3:16) 
 
NYSCHSA President Kevin Rooney Continues Our Joint Testimony Before the Legislators (2:56)
 
RebuildNY Now's Fred Hiffa Rounds Out the Testimony (2:55)

Senate Transportation Committee Chair Timothy Kennedy Questions the Presidents (3:14) 
 
Assembly Transportation Committee Chair William Magnarelli Questions the Presidents (2:17) 

Senator Michelle Hinchey Questions the Presidents (3:08)
 
Senator Peter Oberacker Questions the Presidents (2:51) 

Assemblyman Michael Norris questions the Presidents (3:20)


Assemblyman Edward Ra Questions the Presidents (1:37)


WENY Report from the Testimony - 2/6/23
"Pothole patrol will be busy, roadbuilders say they are shortchanged in budget"
Albany Times Union - 2/5/23; Updated 2/6/23  
Advocacy Day - March 8, 2023 in Albany
Each March, more than 600 County and Town Highway Superintendents, Public Works Commissioners and Highway industry professionals converged at the New York State Capitol and Legislative Office Building in Albany, New York for the "Local Roads Are Essential!" Advocacy Campaign. The groups urge the Governor and state lawmakers to make the maintenance and repair of local roads and bridges a top priority in the state budget.
Here's our schedule:
Tuesday, March 7, 2023
3:00 – 8:00 p.m.                      Registration
5:00 – 6:00 p.m.                      Budget Briefing & Strategy Meeting       
6:00 – 7:00 p.m.                      Legislative Reception
Wednesday, March 8, 2023
6:00 – 9:30 a.m.                      Registration
7:00 – 9:30 a.m.                      Local Roads Breakfast Buffet
8:30 – 9:00 a.m.                      Advocacy Briefing
~ 9:30 a.m.                               Head Up the Hill | Visits & Rally

Our Headquarters Hotel:
The Albany Hilton
40 Lodge Street 
Albany, NY 12207

LRAE ADVOCACY DAY SPONSORS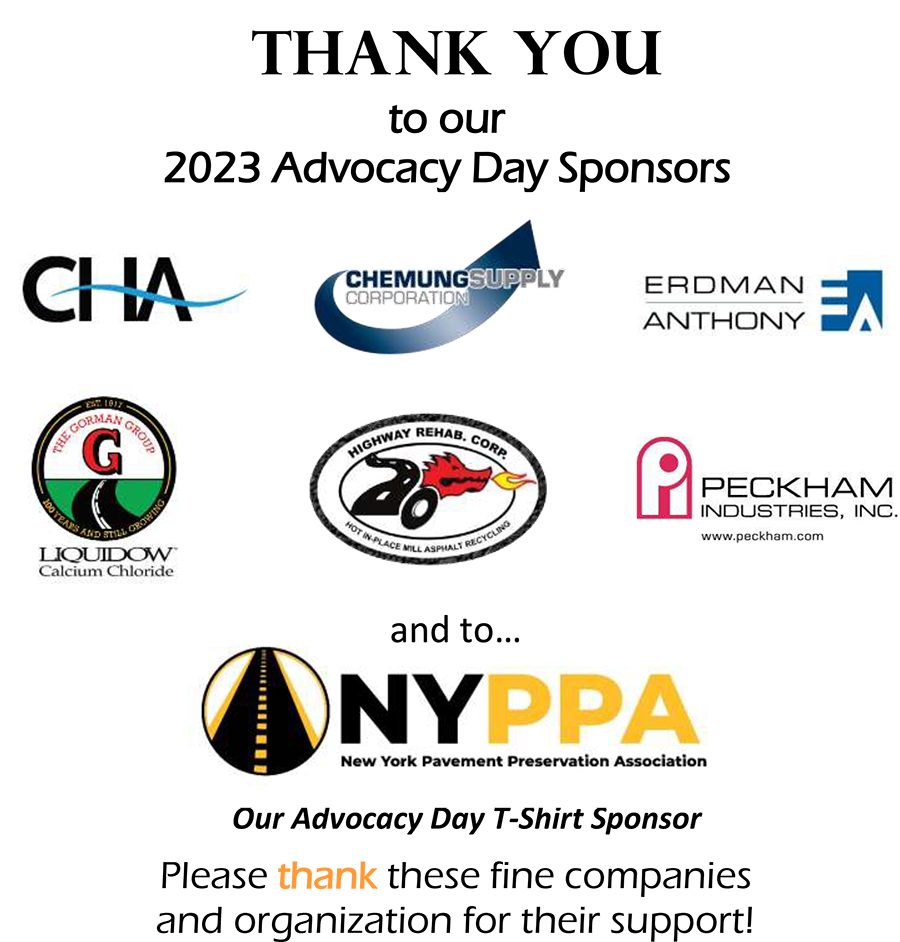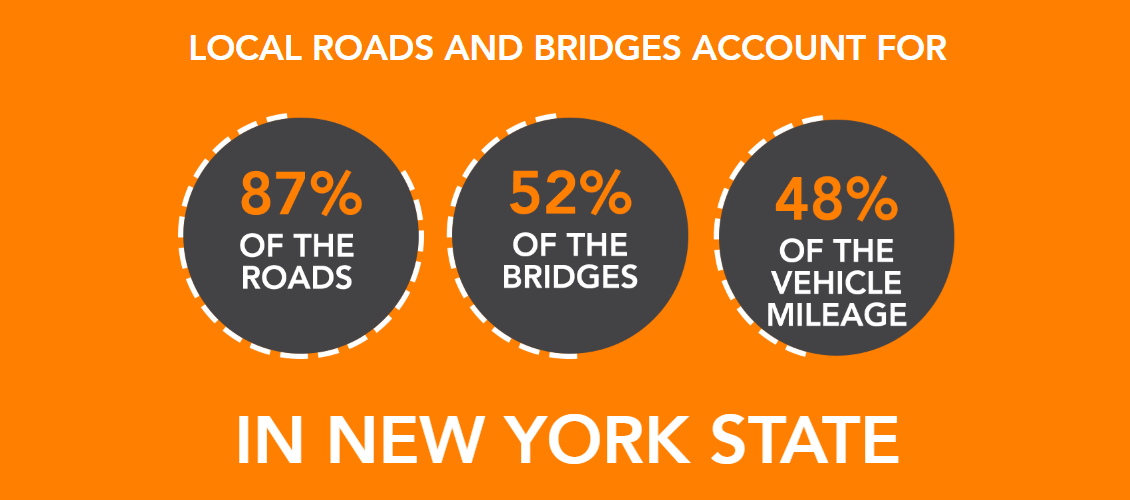 Local roads are a crucial part of the state's infrastructure. As much as half of all vehicle miles traveled in New York State are on local roads. The maintenance, repair and strategic replacement of existing transportation infrastructure are required for safety, mobility and for the state to remain economically competitive. Providing much-needed funds for local roads and bridges also sustains jobs in highway related industries and professions.