Meet Our President
Read President Rooney's Message to the County Executives of New York State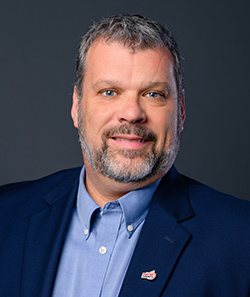 Kevin P. Rooney, P.E. 
President - 2023
Public Works Superintendent
Wayne County
January 2023 - The New York State County Highway Superintendents Association (NYSCHSA) elected Kevin P. Rooney, P.E., President at its Annual Winter Conference and Tradeshow held recently at The Saratoga Hilton, Saratoga Springs, NY. Mr. Rooney is the Wayne County Superintendent of Public Works.  
At the NYSCHSA Annual Association Luncheon, Mr. Rooney expressed his appreciation to all of the attendees for supporting the NYSCHSA, and many of the current and past Superintendents that work so well together in Region 4. 
In his remarks to the NYSCHSA membership, Mr. Rooney spoke about the importance of relationships built through the Association including those with the Affiliate Members including the manufacturers, consulting firms, suppliers and other companies, who are an important part of the Association. Their support of our Association makes our conferences and other learning opportunities possible and ensures high quality events. 
Mr. Rooney thanked the New York State Association of Town Superintendents of Highways for supporting NYSCHSA as close working partners to achieve our goals as Highway Officials.  He also thanked the NYSDOT for their continued support. Mr. Rooney also recognized Bruce Geiger as our Legislative Representative who continues to provide important information to the NYSCHSA. 
Mr. Rooney was appointed Highway Superintendent by Wayne County in 2009, and Superintendent of Public Works in 2012. He graduated from Rochester Institute of Technology with a Bachelor of Science degree in Civil Engineering Technology. Prior to his appointment as Superintendent, he worked with various Engineering Consulting firms. 
Mr. Rooney spoke of the high value he places on relationships with his fellow highway superintendents and the industry as he leads the Association forward. "Our new Strategic Plan offers an exciting roadmap to our future. To achieve all our goals, we will need the ongoing support and involvement of our Superintendent and Affiliate members. There are many ways you can get involved. You can learn more by going to the NYSCHSA website, contacting one of our officers or the Association Office. I look forward to working with everyone. Here's to a productive and successful 2023," said President Rooney.