Winter Conference - 2023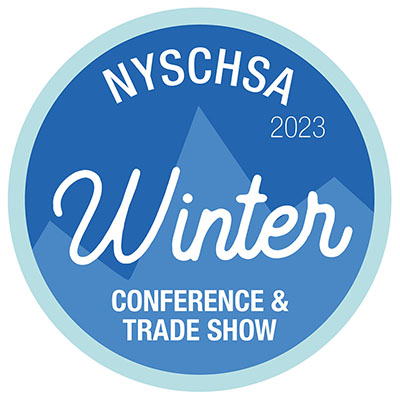 NYSCHSA Winter Conference
January 16 - 19, 2023
Saratoga Hilton & City Center
Saratoga Springs, NY
Coming Soon: Conference Registration
Sponsorship/Exhibiting Opportunities
Click here to view 2023 Sponsorship and Exhibiting Opportunities
Hotel Accommodations
For those looking to book early, please click here to make your reservations.
Rates are $140 per night, plus taxes.
Call for Presentations - 2023
The 2023 Winter Conference will have multiple CE Sessions.
CE Sessions are an important part of our industry and allow us to learn from our colleagues.
Do you have a topic you are looking to present?
Click

here

and submit today!
Deadline is Friday, November 4th, 2022
Winter Conference Scholarship  Information 
Does your budget not allocate enough funds for you to attend?
Do you need supplemental funds to help with registration or hotel?
Apply for the NYSCHSA Winter Conference Scholarship. 
Send an
email
to our office stating your needs by
Friday, November 4th, 2022
---
The NYSCHSA Annual Winter Conference is a gathering of Superintendents, Commissioners and their Staff looking for innovative and cost-effective solutions. Whether your marketing objective is to introduce new products or services, strengthen your relationship with existing clients or prospecting for new business, you need to participate in this exclusive event. We host a strong program with educational sessions that will appeal to all Superintendents and Commissioners working to improve their County Highway Departments and Services.

The 2023 Winter Conference will consist of two full days of education, engagement, and networking. Affiliate members will have the opportunity to engage with participants in our Exhibit Hall, as well as attend sessions. 
CONFERENCE OBJECTIVES

Present up-to-date methods and techniques for the new construction, maintenance and repair of county streets, roads and highways.

Teach timely, need-to-know management concepts and practices for equipment and personnel.

Present up-to-date methods and techniques for the new construction, maintenance and repair of involved in maintenance tasks and responsibilities.

Offer technical information for discussion.

Provide an opportunity to share solutions to common problems.

Allow important time for colleague networking and problem solving.
BENEFITS OF EXHIBITING
Gain access to Superintendents, Commissioners & their staff, Transportation Directors, Engineers, Land Surveyors, and anyone interested in building/maintaining local roads, all in one location!

Virtually meet and interact with prospective clients.

Strengthen relationships with existing customers.

Forge strategic partnerships and develop future sales leads.

Heighten brand awareness.

Promote your new product launches.

Stand out from your competition.

Demonstrate products and services.

Attend educational sessions on the latest developments in the industry.
WHO SHOULD PARTICIPATE?

Superintendents, Commissioners & their Staff.

Transportation Directors.

Engineers.

Land Surveyors.

Vendors, Suppliers & Supporters